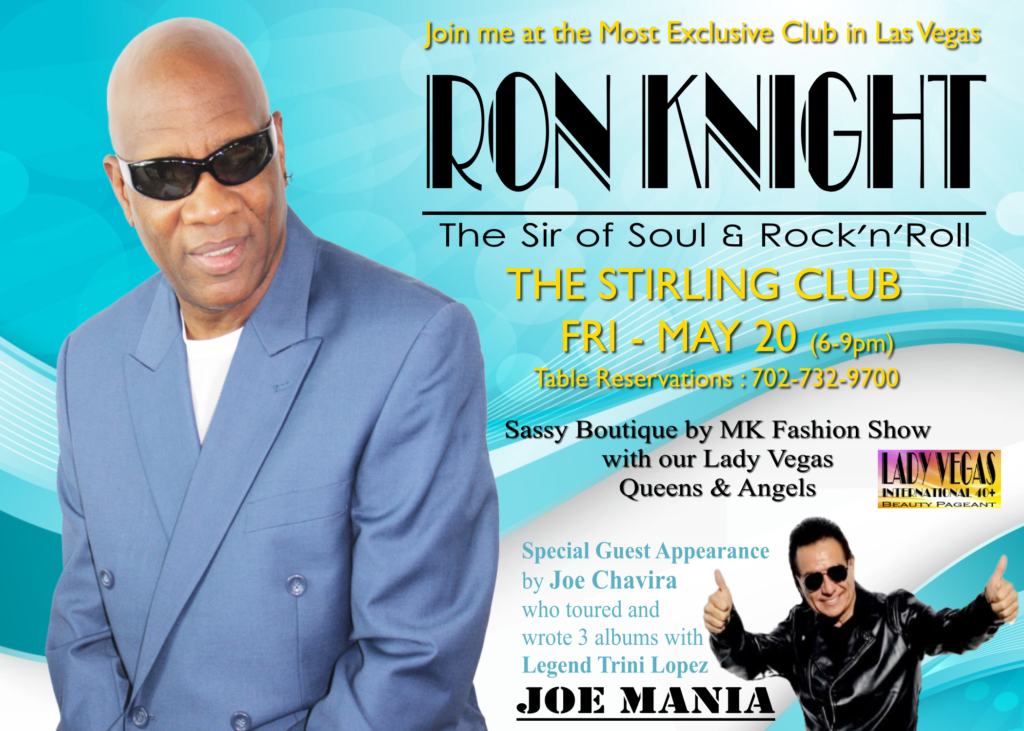 It's going to be another amazing evening at
The Stirling Club!!
Ron Knight the Sir of Soul and Rock'n'Roll
is back by popular demand

FRIDAY – May 20, 2022 (6-9pm)
Enjoy Great food, Cocktails & Spirits, Beers and Fine Wines, amazing entertainment,
fashions and special very special guest performer Joe Chavira
'Joe Mania'


Stirling Club Reservation & RSVP: 702-732-9700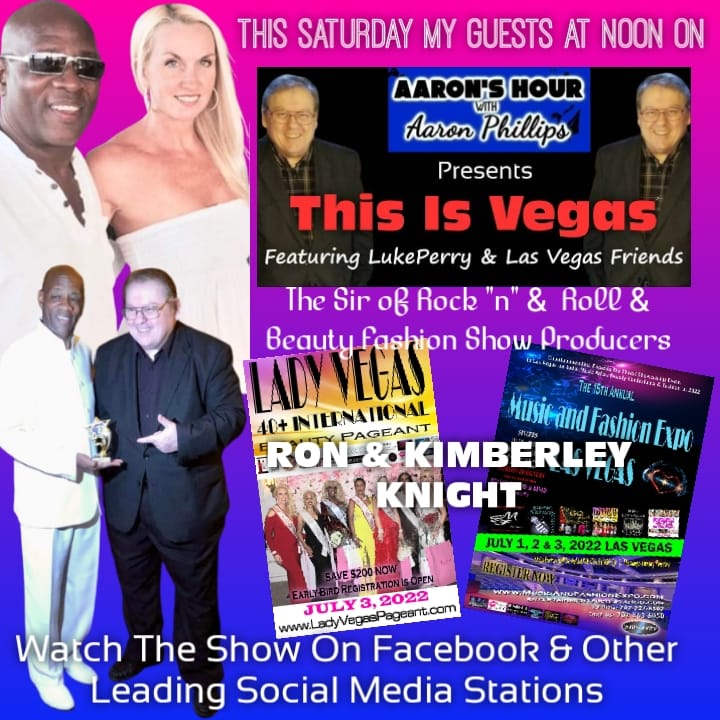 SATURDAY 6th MAY
RON KNIGHT & KIMBERLEY LOOK FORWARD TO A FUN INTERVIEW WITH
LUKE PERRY on THIS IS VEGAS!!! A special feature inside Aaron's Hour with Aaron Phillips, 

Luke & Ron first met in Hollywood back in the late 70's when the music scene was jumpin' and the television shows were plentiful for great entertainers.

Now they both enjoy living in Las Vegas and keep up to date with all that is going on in The Entertainment Capital of the World.

Join Aaron's Hour Show on Facebook to see the interview and many more.
Produced by Go Live Vegas Production Studio.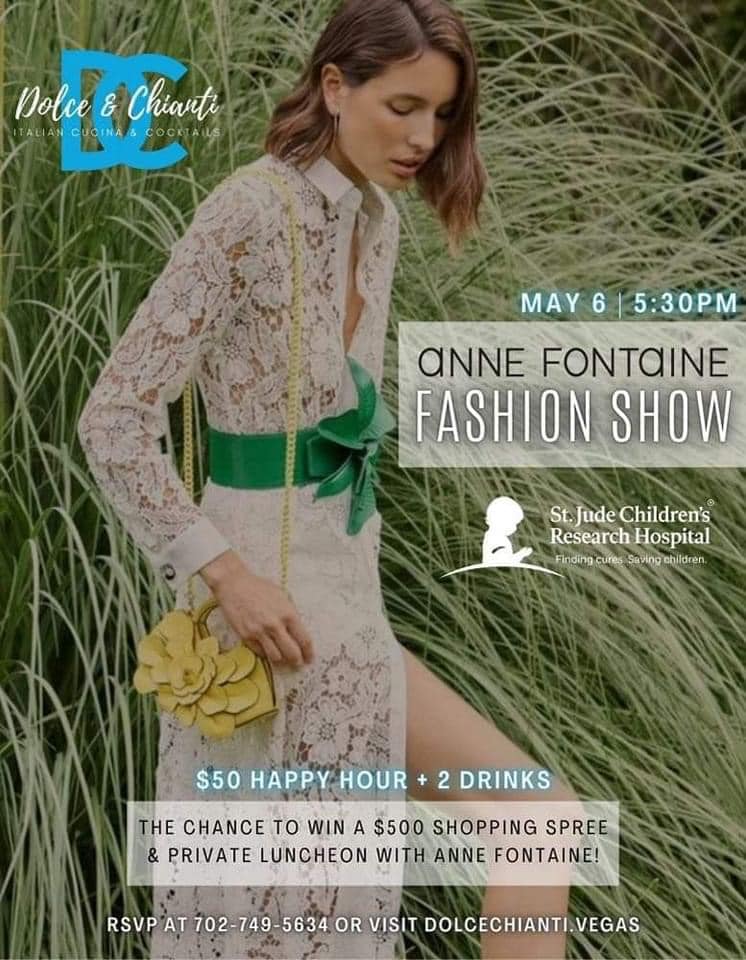 Anne Fontaine Fashion Show @ Dolce & Chianti – May 6, 2022 raising funds for St. Jude's Childrens Research Hospital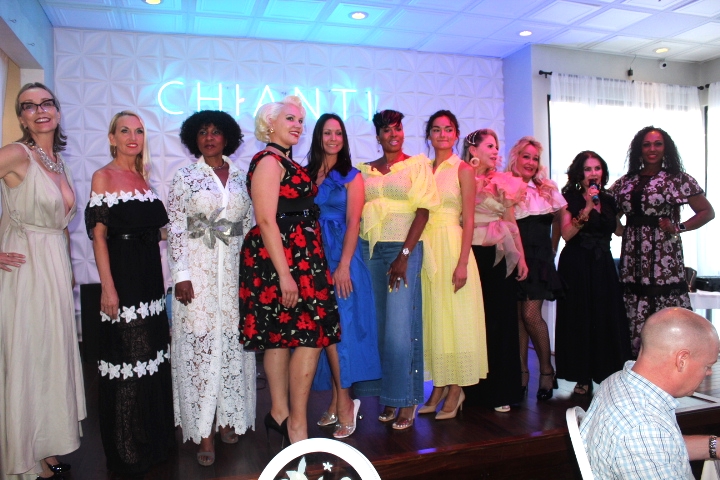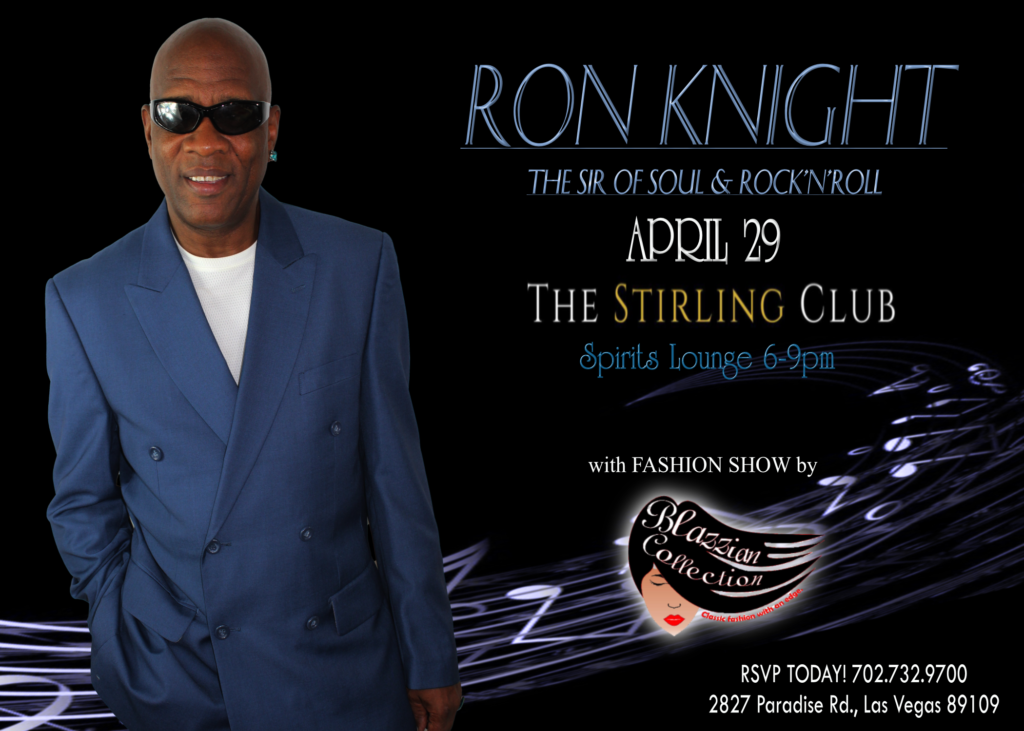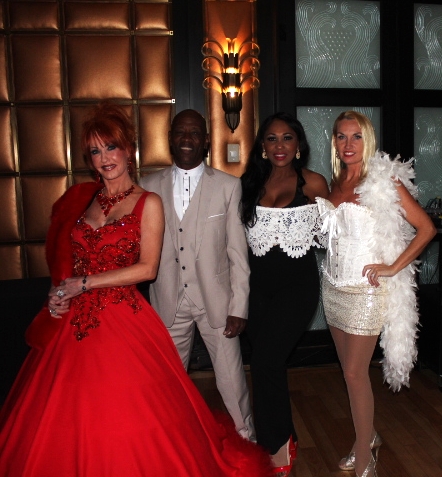 Friday April 29, @ The Stirling Club in Las Vegas (6-9pm)
and fashions by Blazzian Collections (designer
Debra Storey
)
see you there…….
inside the luxurious Turnberry Place on Paradise Rd.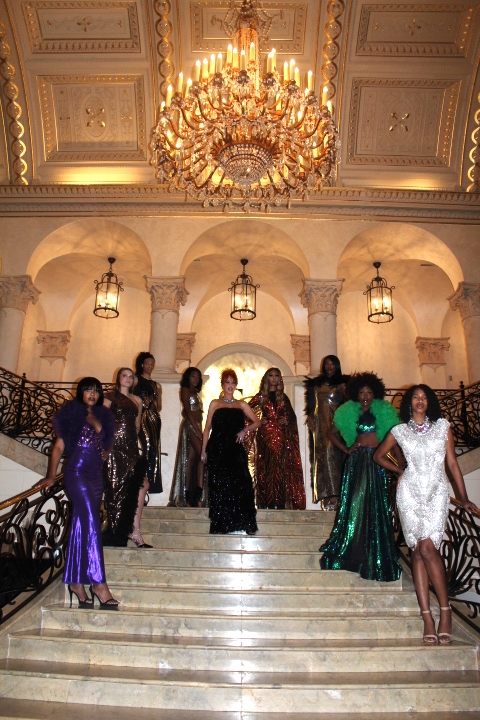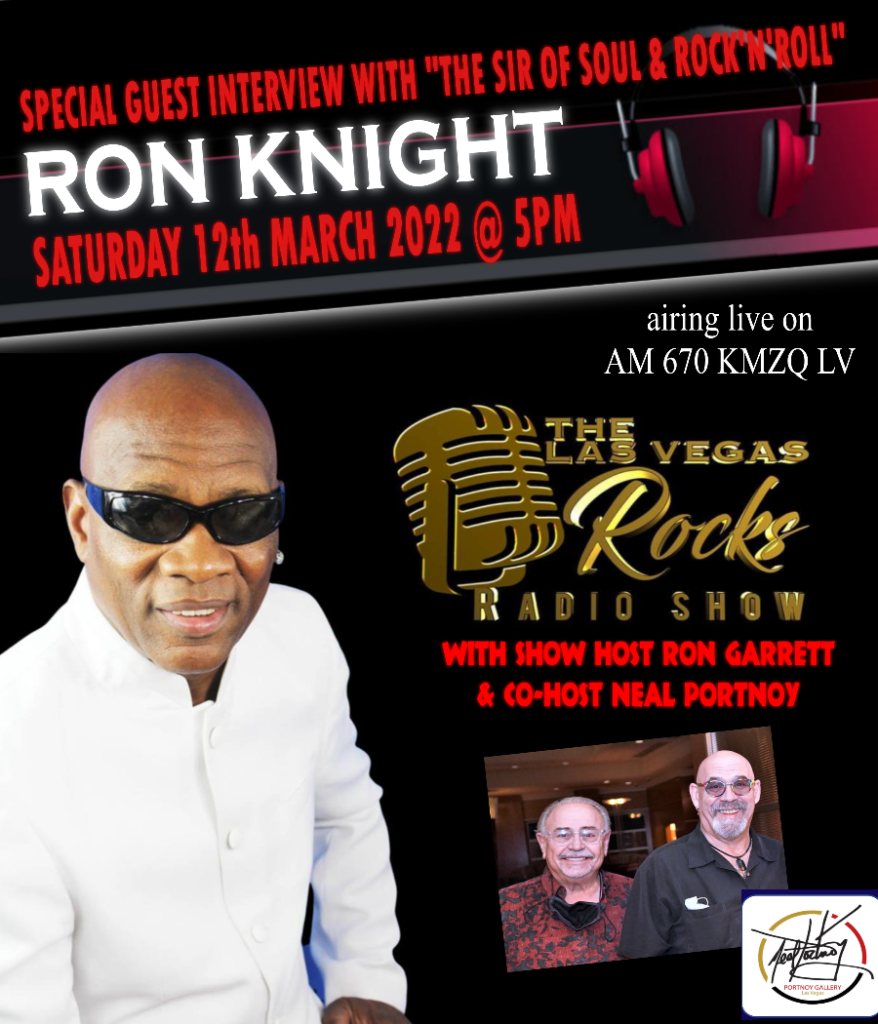 Excited for Ron Knight "The Sir of Soul & Rock'n'Roll" to appearing in person on
The Las Vegas Rocks Radio Show
being interviewed by two legends in radio
and in Las Vegas –
Mr. Ron Garrett
& Cartoonist/Charactature Artist Neal Portnoy.
All happening Saturday 12th March 2022 @ 5PM
airing on AM 670 KMZQ LV with over 30,000 listeners
Thanks guys!! You Rock!!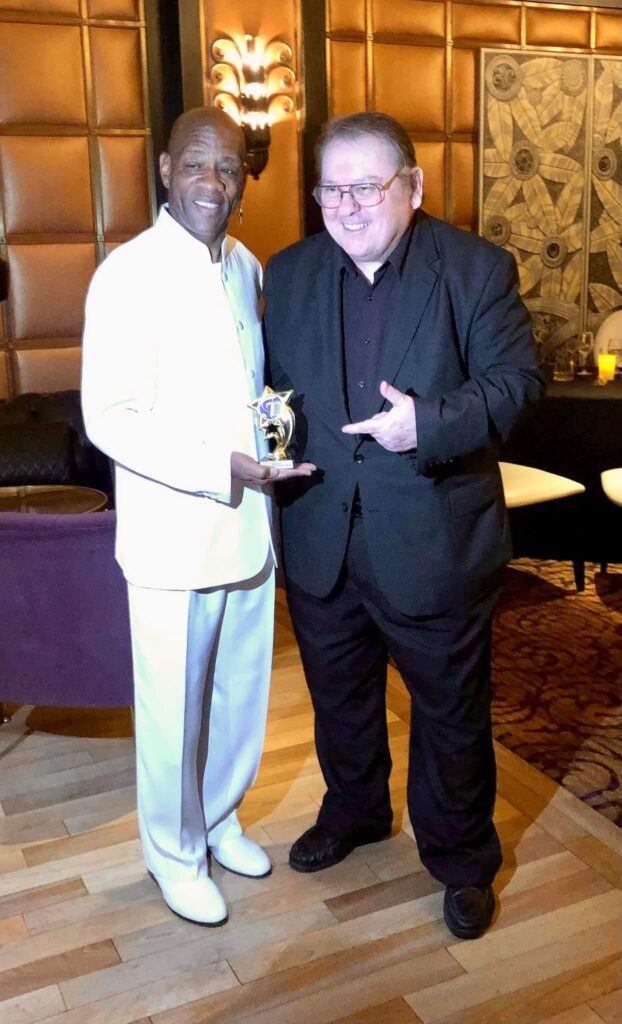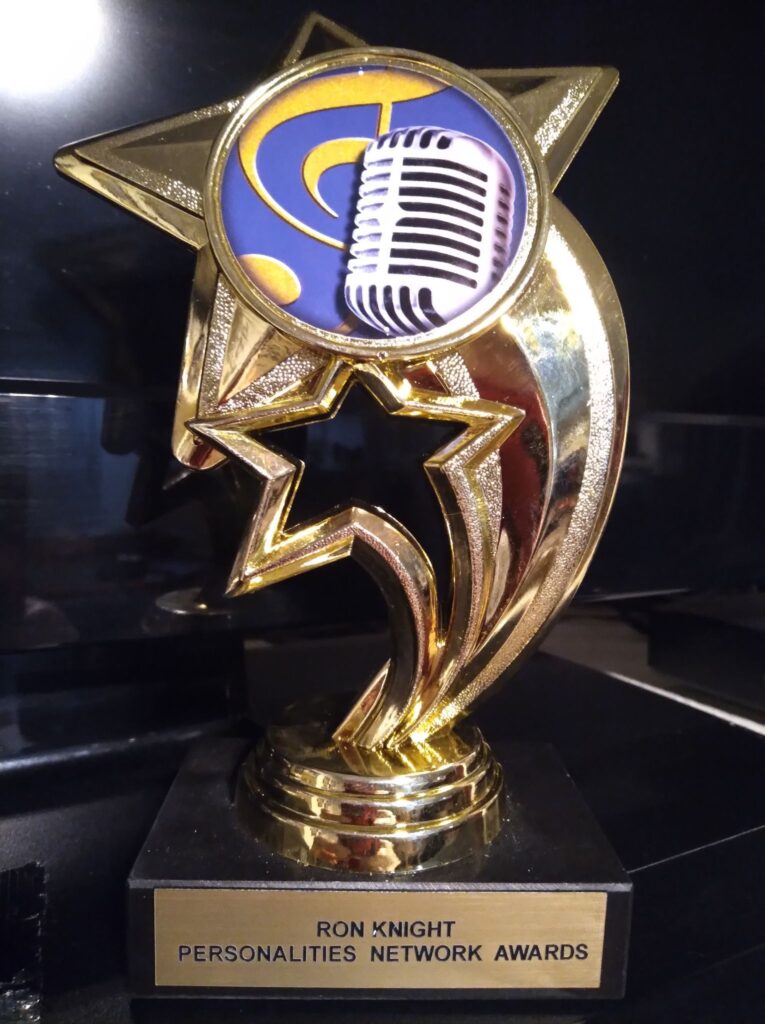 Luke Perry
ceo of
PN Las Vegas
presents Honoree
'RON KNIGHT'
with his Award at
the Stirling Club
Feb 4, 2022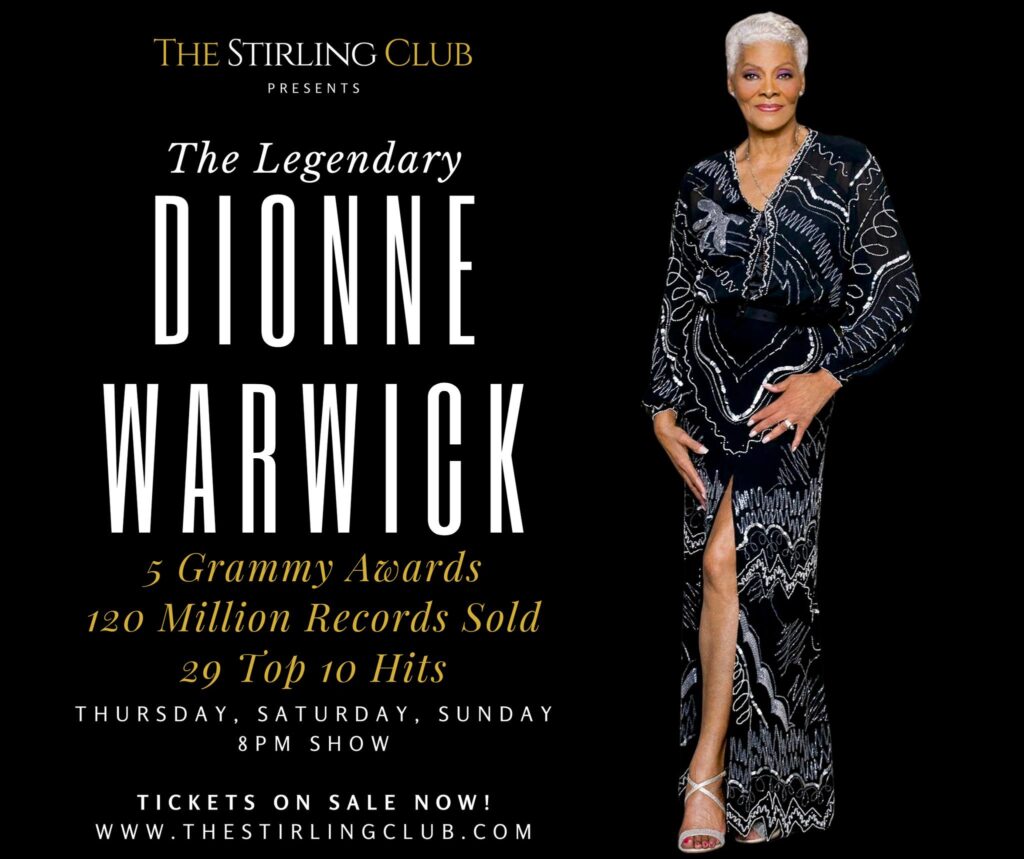 The legendary Dionne Warwick to start her new Las Vegas Residency starting March 24th, 2022 @ The Stirling Club Las Vegas….
Dionne Warwick is ready to use her silky-smooth voice to serenade us in Las Vegas. An Intimate Evening with Ms. Dionne Warwick at The Stirling Club at 8 p.m. will be an experience unlike any other.
Dionne Warwick was made for the spotlight ever since she was a little girl. Her voice stood out amongst the crowd and that's why she's won five Grammys and has been nominated for 14. She's had hits like "That's What Friends Are For," "Walk on By," "I'll Never Love This Way Again" and "I Say A Little Prayer." She's an unstoppable force and her voice can mend any broken heart. Her lifetime of success has landed her in Vegas. Tickets available now at The Stirling Club.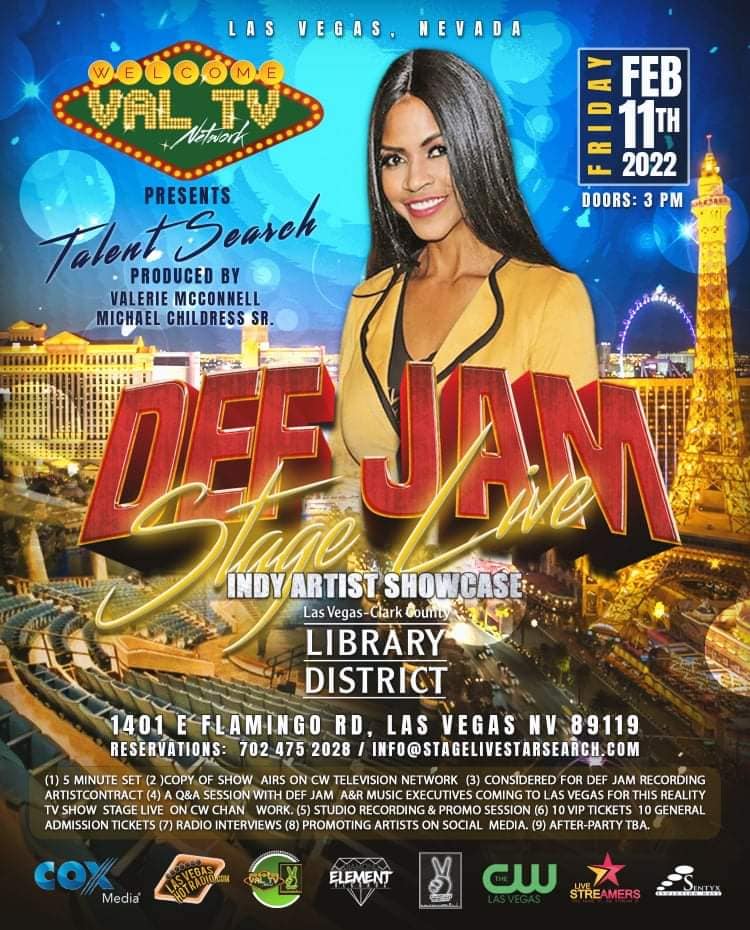 This is a live show showcase event for Indy Artists interested in being considered for a recording with Def Jam Records & who are ready to for some television time on the 
CW Las Vegas.
Entertainmentfirst is pleased to announce that we are running Operations for this Indy Showcase Event in Las Vegas.

Produced by Valerie McConnell  & Michael Childress Sr. 
@ Val TV Network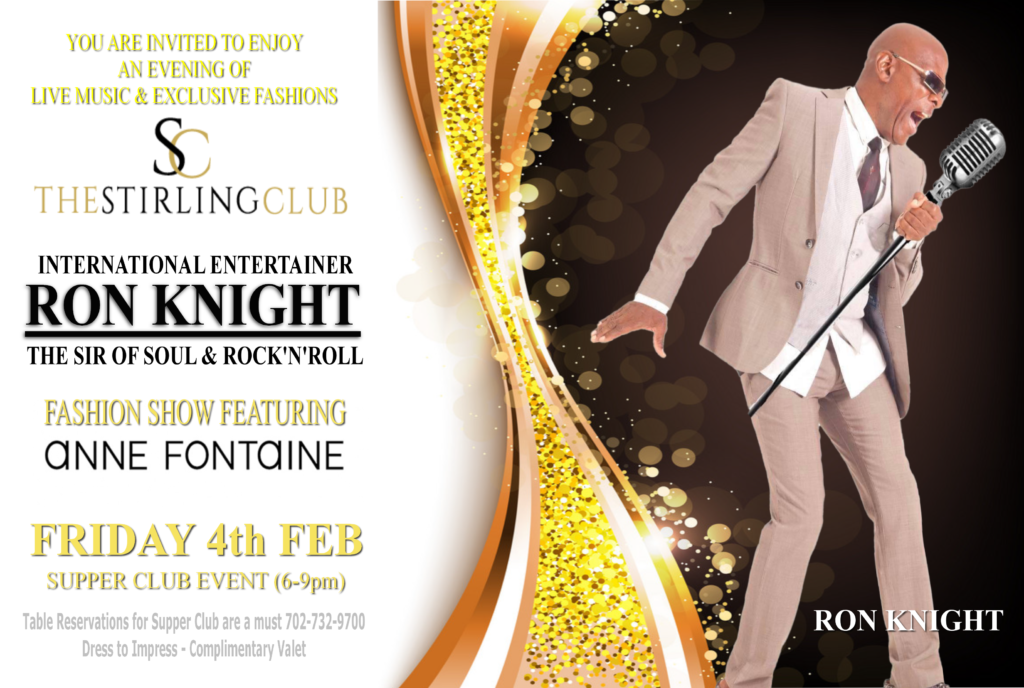 OK let's do 2022 the right way –
RON KNIGHT RETURNS TO THE STIRLING CLUB
FRIDAY Feb 4th – RON KNIGHT will return to the World Famous Stirling Club in Las Vegas, this time with a special surprise;
an ANNE FONTAINE Fashion Show.
Join us for an exclusive Stirling Club Supper Club event;
Reserve your table now: 702-732-9700
Live Music & Fashions at every event we do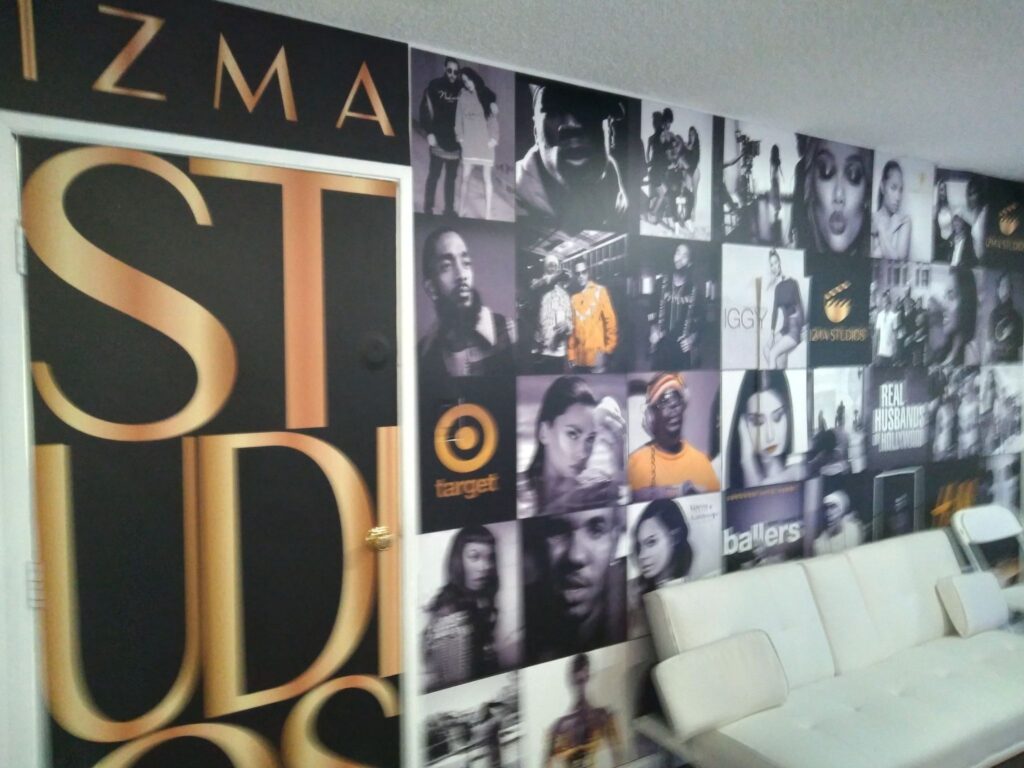 MODEL & MUSIC ARTIST CASTING FOR
DEF JAM STAGE LIVE  produced by Val TV Network
Sunday 6th Feb, 5pm-7pm
Casting Address : IZMA STUDIOS
3635 W Twain Ave Suite A, Las Vegas, NV 89103

Operations for this Event – Entertainmentfirst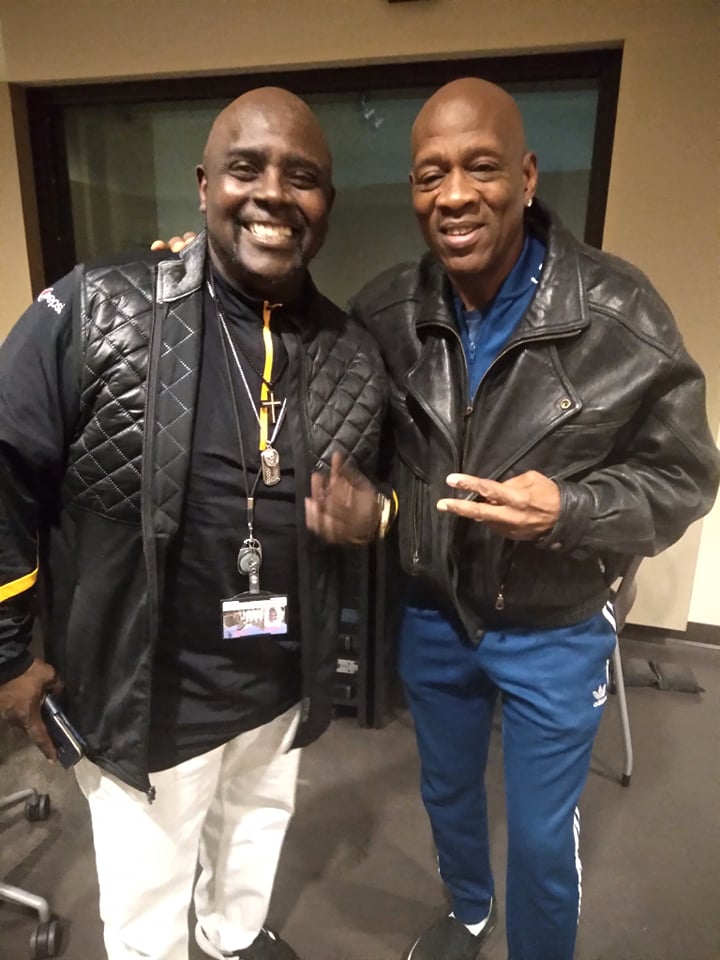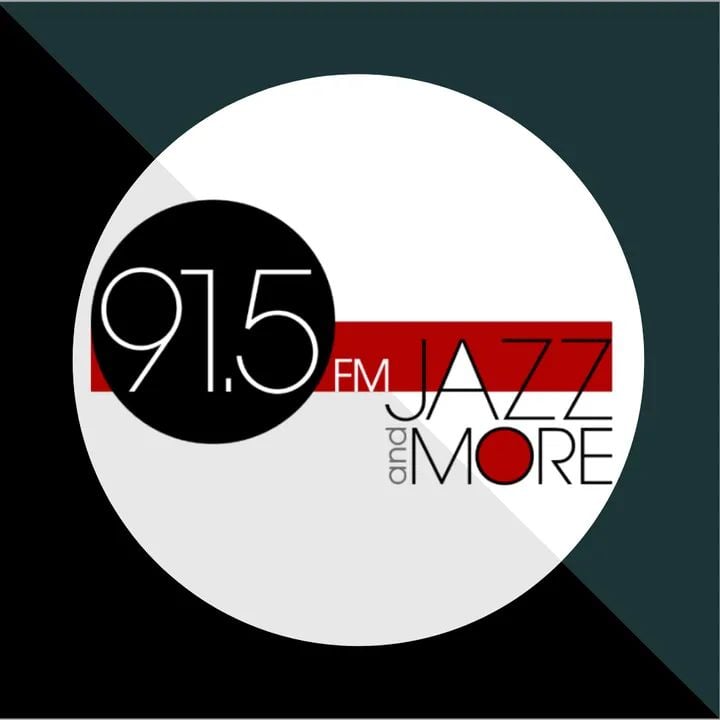 Legendary DJ
Galaxy Glenn
@ 91.5 Jazz and more
interviews Mr. Ron Knight

Feb 1, 2022 @ 5:30pm
Las Vegas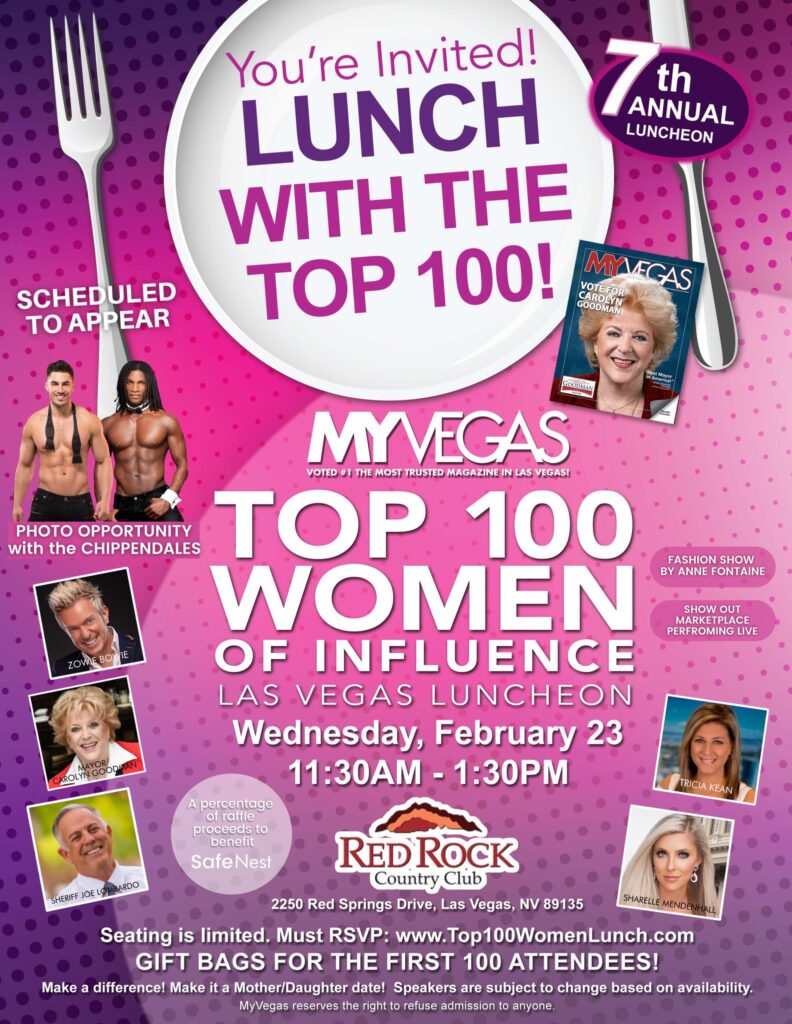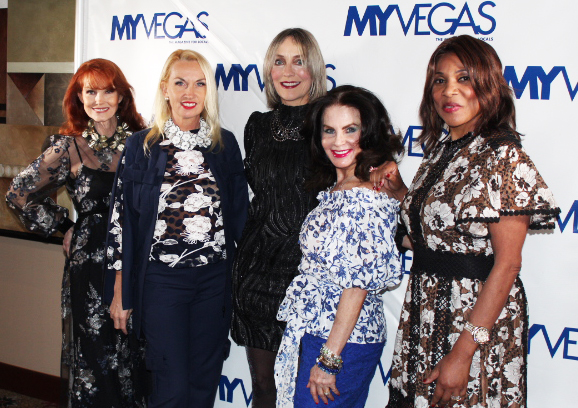 Celebrating with MY VEGAS MAGAZINE & the Top 100 Influencial Women of Las Vegas.
Congratulations to Anna Stewart Vian Billings on being voted into th etop 100 (manager of Anne Fontain at the Forum Shops)
Was a pleasure to be part of the ANNE FONTAINE FASHION SHOW @ Red Rock Country Club.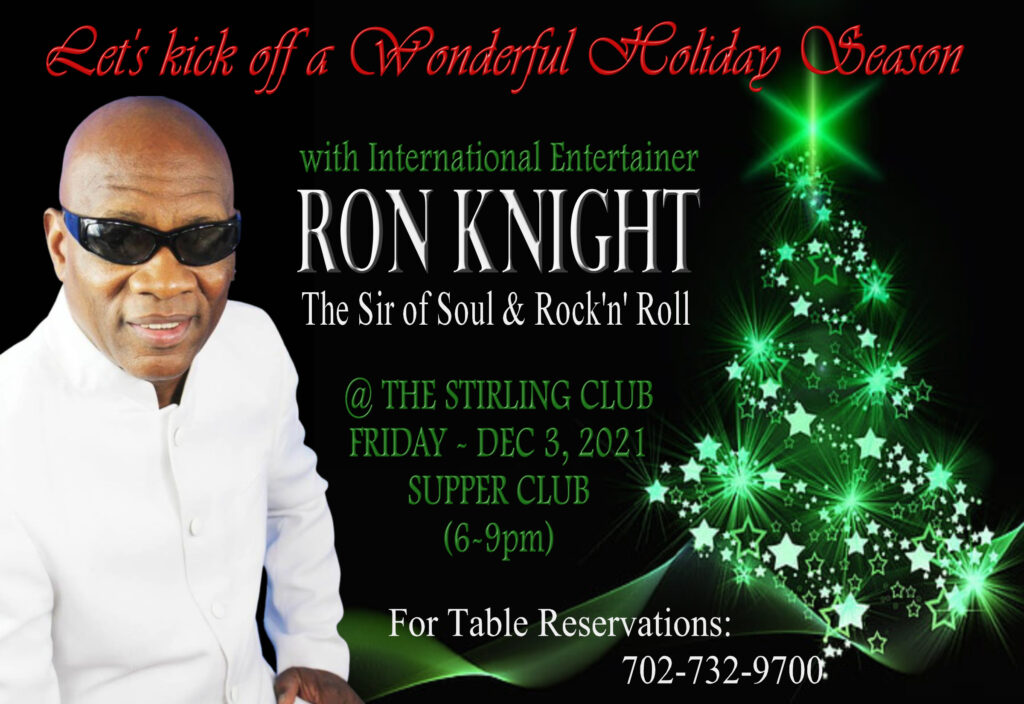 Come out and Celebrate the beginning of the Holiday Season with RON KNIGHT " The Sir Of Soul & Rock'n'Roll"
@ THE STIRLING CLUB LAS VEGAS.
Friday Dec 3, 2021 (6-9pm)
Reserve your table now for this Supper Club Event, the food and the music are both warming and wonderful.

See you there!!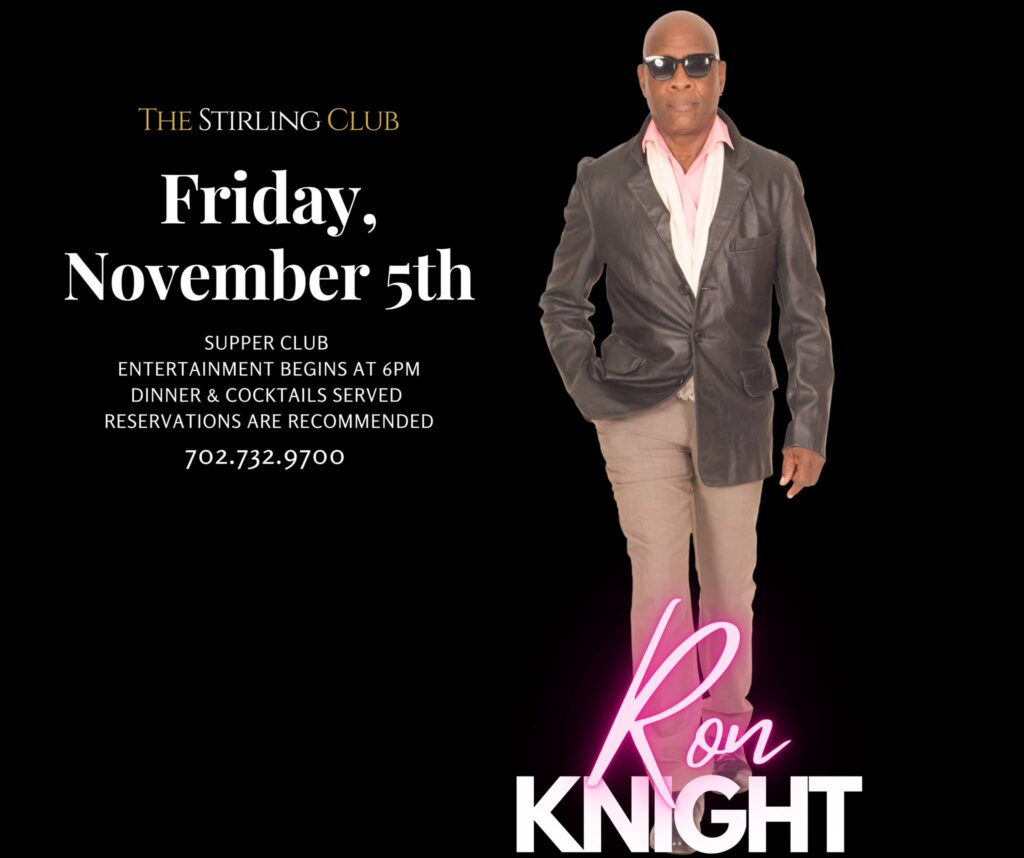 RON KNIGHT " The Sir Of Soul & Rock'n'Roll"
will be Returning to the World Famous STIRLING CLUB LAS VEGAS.
Friday Nov 5, 2021 (6-9pm)
Reserve your table now for this Supper Club Event